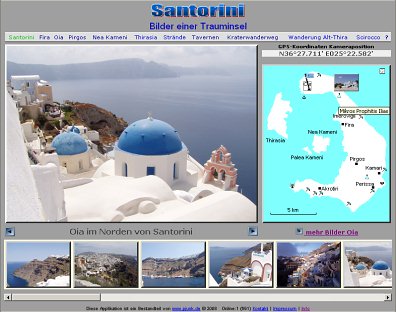 The slightly different photo gallery of Santorini. For each image is the place (exactly the camera position) on a card by a small flag indicating and the precise geographical coordinates (GPS) appears. The Santorini gallery with 25 images provides an overview of Santorini (Thira) ( show map of Europe with Google Maps) . Select the images with the Next and Back buttons, on keyboard with -> and <- , alternate click on the preview images or choose the icons on the map. When your cursor is moving over the map-icons you will see a small preview. If ' more photos' appears below the map then you can choose a further Gallery. You can also select Gallery on the menu bar:
Fira (8 Photos), Oia (9 Photos), Pirgos (4 Photos), Nea Kameni (11 Photos), Thirasia (5 Photos), Beaches (5 Photos), Taverns and restaurants (10 Photos), Hike Ancient Thira (Short report with 6 Photos), Caldera walkway (Short report with 12 Photos), Scirocco Hotel (7 Photos) and short videos (6). In total, more than 100 photos and

6 videos available. Thanks also to the members of Santorini Forum for tips and advice.